The Advantages of MIPSpro for MIPS Value Pathways
Ready to earn the maximum incentive?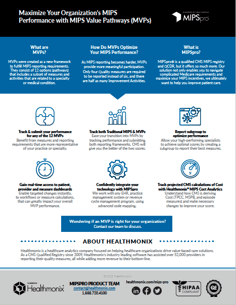 MIPS Value Pathways (MVPs) have been introduced in 2023 as a new MIPS reporting framework. The MIPSpro® Qualified Registry & QCDR for MIPS Value Pathways optimizes the MIPS score and drives higher Medicare reimbursements by leveraging reporting "pathways" that are more relevant to your specialty or practice.
Start with this overview and contact us to discuss how MIPSpro can help you successfully report, submit and score well with MVPs.