What's New in 2023?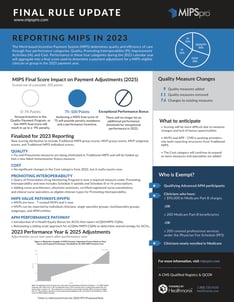 Now in it's 7th year, the Merit-based Incentive Payment System (MIPS) is harder than ever before. New strategies are required to address higher benchmarks, new and retired measures, new thresholds and evolving rules proposed by the Centers for Medicare & Medicaid (CMS) for the 2023 MIPS performance year.
Healthmonix excels at enabling customers to achieve higher MIPS scores and Medicare reimbursements.
Download this overview of MIPS reporting updates for 2023. Then contact us to discuss how MIPSpro customers achieve up to a 9% higher Quality score in MIPS than the national average.
Learn how MIPSpro can help you get started today.