What's New in 2021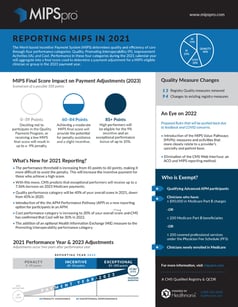 CMS announced in the 2021 Final Rule that exceptional performers can see upwards of a 7.36% incentive. While this may provide significantly more ROI for MIPS participation, the program is getting harder. New strategies will be required to address higher benchmarks, retired measures, new thresholds and evolving rules proposed by CMS.
Start with this overview and call us to discuss how MIPSpro is leveraged as part of the Healthmonix approach to help you improve your MIPS score, and most importantly, drive value-based care.
Learn how MIPSpro can help you get started today.