Easily get valuable insights into your MIPS Cost score
Dive into data to enhance efficiency, improve patient outcomes, and boost reimbursements.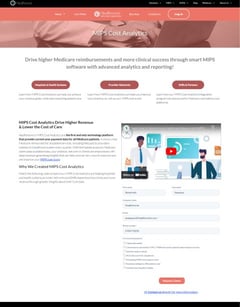 With CMS handing out Cost category scores again and many MIPS-eligible providers receiving subpar scores, the need to understand cost measures has spiked.
Our industry-first MIPS Cost Analytics software gives you the insights you need to succeed in the Cost category. MIPS Cost Analytics allows you to know what you can bill and get reimbursed for. It also helps you discover where you're losing patients to other providers and how much money Medicare is spending on your patients, even outside of your network.
Don't settle for mediocre Cost scores. Use MIPS Cost Analytics to receive faster access to more robust data than Medicare can provide today.