Drive Your MIPS Performance with the

Emergency & Acute Care Clinical

Registry in collaboration with Healthmonix (EACCR)
Optimized QCDR Measures & Focused Registry Reporting for EM Physicians & Hospitalists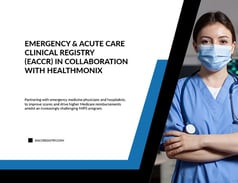 The landscape of the Merit-based Incentive Payment System (MIPS) is changing and the Centers for Medicare & Medicaid Services (CMS) is making it harder to achieve a high score.
The EACCR is the first step in helping emergency medicine physicians and hospitalists conquer MIPS.
Download our ebook to learn how the EACCR drives MIPS performance that increases your Medicare reimbursements.
Then contact us to discuss not only how the EACCR helps your organization see ROI from MIPS participation, but also how it enables your transition into value-based care.