Identifying and Addressing Gaps in Care with APP Impact
Gaps in Care Analysis Maximizes Performance in the APM Performance Pathway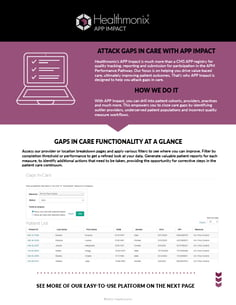 The introduction of the APM Performance Pathway (APP) has created new reporting challenges for ACOs and eligible MIPS APMS, driving some uncertainty about how participants can optimize their performance. Leveraging Healthmonix's APP Impact to attack the gaps in care within your organization's patient data can help maximize reimbursements and your APP score.
Start with this overview and contact us to discuss how APP Impact can help you identify and address your gaps in care.
Learn how APP Impact can help you get started today.