New Webinar
2021 E/M Changes: Are You Ready?
Recorded on Tuesday, November 10, 2020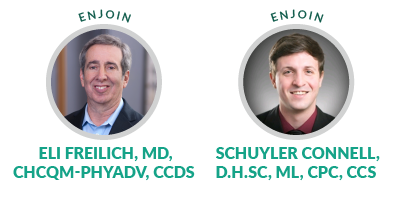 Are you ready for the 2021 E/M changes?
On Jan. 1, 2021 CPT E/M coding will undergo the largest change since the Centers for Medicare and Medicaid Services (CMS) introduced the 1997 documentation guidelines for E/M services. We're joined by Eli Freilich, MD, CHCQM-PHYADV, CCDS, Enjoin Medical Director and Schuyler Connell, D.H.Sc, ML, CPC, CCS, Enjoin Operations Manager, who will break down the changes and potential impacts to MIPS and other value-based payment programs, in addition to providing recommendations for success.


Register to receive a recording of the webinar: