Providing MIPS Reporting capabilities is an excellent value-add for your clients—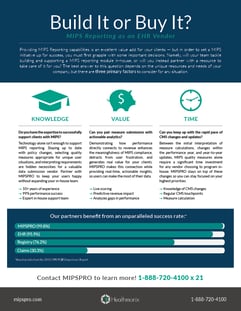 but should you tackle building a MIPS reporting module in-house, or find a partner to take care of it for you?
This downloadable paper breaks down three important questions that must be considered when deciding whether to build or buy:
Knowledge — Do you have the expertise to successfully support clients with MIPS?
Value — Can you pair measure submission with actionable analytics?
Time — Can you keep up with the rapid pace of CMS changes and updates?